We're thrilled to introduce a great new product, we're now a stocking dealer for the fantastic FAT Paint!
Our shelves are stocked, and the projects have begun. 
FAT Paint is "fabulous chalk-style paint for artisans and wanna-be artisans who have big beautiful bold ideas".
That sounds like our kind of product. Our fab paint department team always has bold and beautiful ideas, and they are true artisans. Even more, they love to share their ideas with our customers, so when you stop by the store, you'll always find a project on the go, so you can see this fantastic product in action.
FAT Paint comes in three sizes - sample, pint, and quart. It's the basis for your unlimited project possibilities, and the colour palette with colours like Caribbean Blue, Tuscan Sun, or Simply Mauve, will inspire many more projects!
Other products include Extra FAT (add some of it to your paint for an even flatter finish), Clear Top Coat (for some added durability), as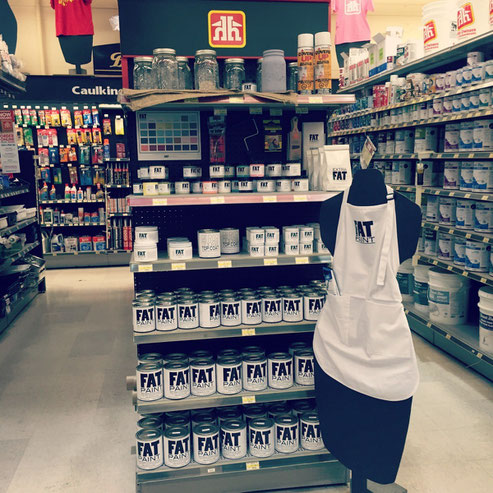 well as Fat Wax Beeswax Polish, for protection and highlighting. The wax comes in three different finishes - natural, white, and patina - and will add that finishing touch to your project. 
We are planning some FAT Paint workshops, so check with our paint department if you're interested. You'll learn about distressed and non-distressed finishes, what type of sandpaper to use, how to get rid of brush strokes, when to wax and which wax to use, how to adjust colour, and much more! 
If you don't want to wait to get started on your first project, stop by the paint department, pick up our workshop handout, and get started!
We're thrilled to offer this fantastic product in our store, and we're looking forward to seeing your project pictures!